ABOUT US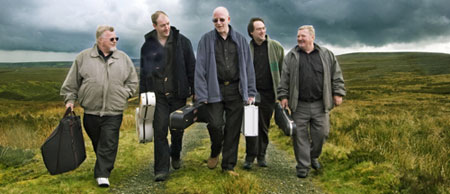 Maximum Pastry! was formed in the autumn of 2004, although the musicians in the band have years of professional music experience having been involved in other well known local ceilidh bands including The Reivers, Coffee Bridge, Joint Stock, Trimdon Folk Band and the North Country Dance Band. Our repertoire is mainly Irish and Scottish, but also includes Northumbrian, American, Nova Scotian and Breton tunes, and even some original compositions.
Most of our work is ceilidhs, and there is undoubtedly no better way for a crowd to mix and have fun than having a ceilidh - this is why they are so popular at weddings and other celebrations. We play for ceilidhs almost weekly - from people who have never ever danced before, to dance clubs - and everyone always has a great time ! Don't worry if you've never been to a ceilidh before; some of our best nights have been for 'first-timers' and we have a caller to take you through all the dances. Providing a really good ceilidh is what we have cut our teeth on, so you'll be in good hands.
We have a full time caller for dance nights with a massive selection of dances from all over for dancers of all abilities. At a ceilidh we will 'call' - talk through and walk through - the dances before kicking in with the music ! With such a range of dances with steps and instruction to follow - from childrens' dances and waltzes to the big favourites like Strip the Willow and The Gay Gordans - everyone can join in and have a really good time.
This website is quite a recent creation to bring us musical luddites into the technological era, as most of our work comes from word of mouth recommendations from guests at our functions or members of the audience. If you are booking a ceilidh band for the first time check out our client testimonial page for what other people thought of us.
The musicians of the band are mainstays of the traditional music scene in the North East of England and have a massive repertoire of tunes picked up from music sessions and other musicians. Although most of our work is in playing for dancing, we regularly perform concerts and are avalable for festivals. We are still musicians who just love playing music for our enjoyment and for the enjoyment of our audience - it is not just work for us. We have played at all kinds of venues - from tiny village halls to exclusive castles, from somebody's back garden to the top hotels, and even a football stadium !
MEET THE BAND……





Nick Caisley
For those of you familiar with Northumbrian traditional music, the name of Nichol Caisley will need no introduction. The Caisley family have long been synonomous with Northumbrian piping since the days when Nick's father Colin recorded early vinyl tracks with the likes of Tom Clough, Joe Hutton, Forster Charlton and Billy Pigg.
Nick carried on the family's musical heritage, first teaching himself fiddle at the age of 11 where he played at Tyneside ceilidhs under the guidance of Jim Mackay, fiddler to the Earsdon Sword Dancers, and then the Northumbrian pipes under the tuterage of his father Colin. By the end of his teenage years Nick had already played at several national and international folk festivals, and in both 1966 and 1967 Nick and his father Colin took silver medals at the prestigious Llangollen International Eisteddfod for their pipe duets.
In the late 1960s and early 1970s Nick was a member of the Tyneside-based folk group "The Reivers", with several appearances on TV and at Newcastle City Hall, as well as supporting the likes of The Corries in headline gigs. Nick also became the resident piper and fiddler to Seaton Delaval Hall and Lumley Castle, and went on to perform with local ceilidh bands like Stannacc and Joint Stock before forming Maximum Pastry ! with his son Damian.
Damian Caisley
Damian started traditional music accompanying his dad, Nick, on guitar before joining "The Reivers Ceilidh Band" in his teens. At the age of seventeen he found an old mandolin in a home-made wine fermenting kit! He dusted it down, put some strings on it and taught himself how to play a few tunes. It was at this time that he started going to Irish music sessions and expanding his repertoire of tunes and meeting other well-known musicians, particularly at the famous 'Colpitt's' session in Durham City.
Whilst at university, he was part of "Stone the Piper", an Irish band playing pubs and clubs in the Midlands. During a year spent in Marseilles in the south of France, Damian met some of the small Irish community based there and joined the Franco-Irish band "Musaique" with Belfast guitarist Peter MacCavana, Leitrim singer Andrew Mooney, and France's best fiddler, Yann Theveniaut. Irish music was big news in the city and some rare ould times were had!
Back in the North of England, Damian rejoined the now "Coffee Bridge" band and also spent a few years playing with "Stanley Accrington of the Third Division North", as well as guesting with local trad rockers "The Trimdon Folk Band", "The North Country Dance Band", and "Joint Stock".
Regular sessions all over the North together with occasional trips to Ireland meant an ever-increasing repertoire of tunes and musical friendships and collaborations. "Coffee Bridge" ran out of beans with people going their own separate ways in 2004 and Maximum Pastry! was formed shortly thereafter and have been gaining an ever-increasing popularity in a relatively short space of time.
John Steele
John has been playing guitar for almost as long as he can remember. Around the age of 12 he became interested in traditional music andsong and started learning to accompany English and Scottish folksongs on the guitar. While at university John started to play regularly in traditional Irish sessions in Durham.
Since university John has lived and worked in Boston and Toronto but is now back in County Durham. In Boston he played regularly in sessions with many fine Irish and Irish-American musicians where he was exposed to many different regional styles of Irish music. Shortly before moving to Toronto, John took up the fiddle as a second instrument.
In Toronto, John played fiddle in sessions two or three nights a week, expanding his repertoire with tunes from Cape Breton and Quebec as well as Ireland. In 2004 he appeared on a CIUT Canada Day radio special featuring fiddlers from the Old Time US, Cape Breton, and Metis-Canadian tradition; John represented the British Isles in this gathering.
In addition to playing with Maximum Pastry!, John performs with the traditional singer Rebecca Barclay from Canada. The have just released their first CD, 'Islet', featuring guitar and vocal arrangements of traditional songs from England, Scotland, Ireland, France and Canada.
More biographies to follow shortly...